Get the MOST out of
Metaphysics for

YOUR

LIFE!

Subscribe to "Offramp Updates"
the official newsletter of Metaphysics for Life
and get the "8 Week" Self-paced STUDY GUIDE for FREE!
Each "Week" you will be guided to a different section of the website. A Weekly Quiz will help you focus and get the most out of each and every Lesson.
You set the pace. Some "weeks" might only take you a day or two to complete. Others might take longer. And you can take a break and start again any time you want.
IMPORTANT INSTRUCTIONS:
To progress through the entire "8 Weeks" be sure to complete and submit the "Weekly Quiz" you will find at the end of each Lesson.  
When you submit the Quiz, answers will be sent to your email inbox, with the link to the next "Week".  
You will receive the link to "Week 1" when you subscribe to Offramp Updates.  PLEASE SAVE THAT EMAIL.  You can use it to repeat the STUDY GUIDE or start over any time you want.
"Weeks 2-8" will NOT be sent automatically!  
You MUST complete each Lesson and submit the  Quizzes to complete the STUDY GUIDE and get your CERTIFICATE OF COMPLETION:
Complete the "8 Week" STUDY GUIDE
and earn your 
CERTIFICATE OF COMPLETION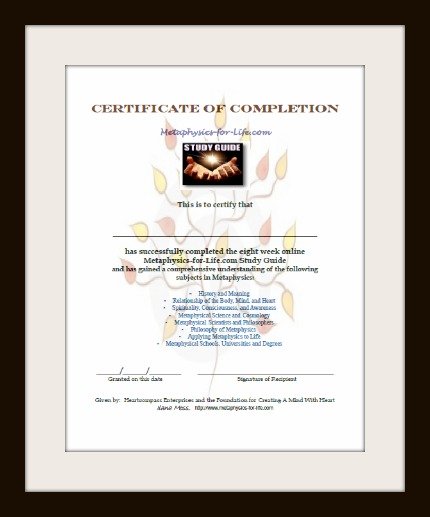 When you complete the final Lesson and submit the Quiz, you will be given a link to download and print out your beautiful Certificate of Completion, suitable for framing and display in your home or office!
The Certificate is in the latest Adobe Reader pdf format, so you can add your name (using the text feature), print it out, then date and sign it.
| | |
| --- | --- |
| Subscribe to "Offramp Updates" and get started using your FREE STUDY GUIDE now! | |
---